Antique maps of Indonesia. With a gallery in Jakarta (Indonesia), Bartele Gallery is specialized in selling antique maps and prints of Indonesia. Our gallery is supported by curator Dr. David Parry, who wrote 'The Cartography of The East Indian Island', a well-known reference for cartographers with an interest in Asian historical maps. Our collection of antique maps of Indonesia includes antique maps of Java, Sumatra, Borneo, Sulawesi, New Guinea and many other regions. Please visit www.maps-prints.com for more antique maps of Indonesia.
Showing 1–12 of 110 results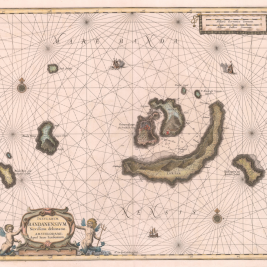 Antique Map Banda Islands by Janssonius titled 'INSVLARVM BANDANENSIVM Noviffima delineatio AMSTELODAMI Apud Ioan Ianfsonium'. A rare and beautiful mid-17th century  sea chart of the Banda Islands in the South Moluccas, the only source of...
Showing 1–12 of 110 results