Antique world maps. Bartele Gallery offers world maps from the 16th to the 20th centuries. Find rare antique world maps published by Coronelli, Van Jagen, Bonne, Danckerts, Schenk, Scherer and many other artists and engravers. Mappe-Monde, hemisphere maps, geological maps and antique maps of polar regions. Please visit www.maps-prints.com for more antique world maps.
Showing 1–12 of 16 results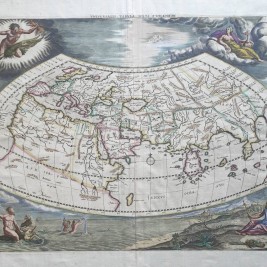 Antique map ancient world by Ptolemy. An attractive early 18th century map of the ancient world according to Claudius Ptolemy in original hand colour from Gerard Mercator's 1578 map of the world based upon the...
Showing 1–12 of 16 results