With weekly new additions we offer a wide range of our antique maps, prints and books online. This website displays our Indonesian inventory. In our Indonesian store we offer antique maps of Australia, Oceania, Asia and Africa. Our antique prints cover many fields of interest as diverse as city views, maritime prints, bird prints, botany prints and many more. For more antique maps and prints we suggest to visit our Dutch antique maps and prints online store. If you don't find what you are looking for, let us know and we will help you to locate it.
Showing 1–12 of 978 results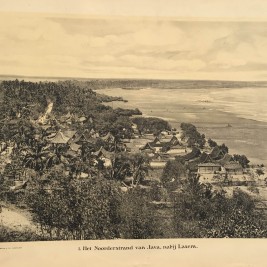 Het Noorderstrand van Java nabij Lasem Antique photograph Antique school board of Het Noorderstrand van Java nabij Lasem Taken c.1895 and published between 1912 and 1914 in Holland. This photograph depicting the Dutch East Indies was...
Showing 1–12 of 978 results