Description
Product Description
Carte de l`Empire de la Chine, de la Tartarie Chinoise, et du Royaume de Coree: avec les Isles du Japon
This copper engraved map of the region displays good topographical detail, by Rigobert Bonne. Numerous cities are spread throughout China, however considerably fewer are shown in Korea and Japan reflecting the lack of knowledge of these regions in the late 18th century. Small arrows indicate the trade winds. The map bears four distance scales.
Rigobert Bonne (6 October 1727 – 2 September 1794) was one of the most important cartographers of the late 18th century. In 1773 Bonne succeeded Jacques Nicolas Bellin as Royal Cartographer to France in the office of the Hydrographer at the Depôt de la Marine. Working in his official capacity, Bonne compiled some of the most detailed and accurate maps of the period. Bonne's work represents an important step in the evolution of the cartographic ideology away from the decorative work of the 17th and early 18th century towards a more detail oriented and practical aesthetic. With regard to the rendering of terrain Bonne maps bear many stylistic similarities to those of his predecessor, Bellin. However, Bonne maps generally abandon such common 18th century decorative features such as hand coloring, elaborate decorative cartouches, and compass roses. While mostly focusing on coastal regions, the work of Bonne is highly regarded for its detail, historical importance, and overall aesthetic appeal.
Condition: Very good, some removed tape stains outside the plate mark. Outline Color
Year: 1780 (Paris)
Measures: 203 x 324 mm. (plate mark)
Price: 5,750,000 IDR.
Product Enquiry
Product Enquiry
Related Products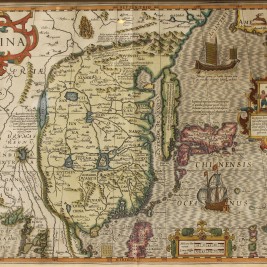 A magnificent early 17th century Dutch map of China in original colour by the great Dutch cartographer Jodocus Hondius (1563-1612), who was one of the most notable engravers and publishers of his time. In 1604...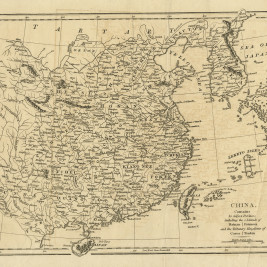 "China, Contains 15 Subject Provinces, including the 2 Islands of Hainan | Formosa and the Tributary Kingdoms of Korea | Tonkin." A detailed British map of China. Detail includes provinces, cities, towns, rivers, mountain, and...