Description
Product Description
Beautifully decorated original Chinese wedding cabinet.
A wedding cabinet was often the center piece of a bride's dowry. The wedding cabinet was filled over the years with oriental silks and linens, then presented to the groom on the evening of the wedding. The 'Togetherness Panel' with the sliding key, is a traditional Chinese design, symbolising the joining of two halves for one love. The dominant colour of the wedding cabinet is red: the colour of good luck and prosperity.
width x depth x height : 104 x 45 x 226 cm
Price: IDR 58.500.000
Product Enquiry
Product Enquiry
Related Products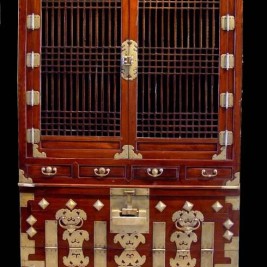 KOREAN CUPBOARD This beautiful 20th century wooden Korean cupboard is decorated with silver coloured brass plating and hardware, incised with auspicious symbols including hinges, side and corner hardware, lucky bat shaped handles, raised diamonds, and a...