Description
Antique Map Java by Van Keulen titled 'INSULAE IAVAE PARS OCCIDENTALIS EDENTE HADRIANO RELANDO/INSULAE IAVAE PARS ORIENTALIS EDENTE HADRIANO RELANDO/t'Amfterdam by GERARD van KEULEN aan de Nieuwe brug met Privilegie'.
The very rare and much sought-after second state sea charts coloured of east and west Java by Gerard van Keulen from Part VI of the Zee-Fakkel, the beautiful Dutch pilot-guide to navigation in the East Indies and the Malay Archipelago was issued by van Keulen in 1753 with 73 charts of Asian waters including the two charts of Java. Part VI was an updated version of the Zee-Fakkel Part V of his 1728 edition, often called the VOC's Secret Atlas. 
Decorative inset chart of Batavia Roads and on the western sheet and a coastal profile of Batavia and the Bogor Mountains from Batavia Roads on the eastern sheet. The two charts, which contain hundreds of depth soundings, are joined to make one map of the whole of Java. The van Keulen family operated a chart-making and publishing firm in Amsterdam for nearly 200 years.
The Van Keulen family, 
Of all the great Dutch dynasties of chart-makers, the van Keulen family stayed in business for the longest period. They published the largest and finest marine charts in Holland for just over two hundred years from 1680 to 1885 when the firm was finally wound up and the stock dispersed at auction. Throughout the history of the family, the widows of the van Keulen's played a major part in maintaining the continuity of the business.
The firm was founded by Johannes van Keulen who was registered as a bookseller in Amsterdam in 1678. With the aid of the well-known mathematician, Claas Jansz Vooght, he produced the five-volume Groote Lichtende Zee-Fakkel (Lightning Columne or Sea Mirrour) in the remarkably short period of four years.
In 1678 a son, Gerard (1678-1726), was born who was to become a skilful engraver and proficient in mathematics and navigational science. It was Gerard who was responsible for establishing the scientific basis of the firm of Van Keulen and their position, from 1714 onwards, as chart makers to the Dutch East India Company, a position they retained until the Company's liquidation in 1798.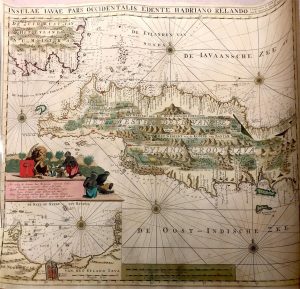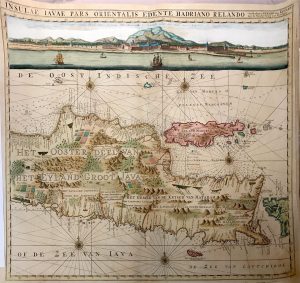 (Ref. 'The Cartography of The East Indian Islands' by Dr David Parry)
Year: c.1753
Dimensions: 600 x 530 mm (each), 1200 x 530 mm (combined)
Condition: Very good, rare coloured copy
Technique: Copperplate engraved.
Purchase Code: BG-07880-2